Restaurant and Café booth and banquette seating, custom made and designed in our Melbourne factory by designer Marty Teare and his dedicated team of tradesmen and women. When your customers expect only the very best we are here to help your business achieve stunning sales results every trading day..... We freight to all Australian states... for free advice or to place a order please call us on ......ph 039726 4138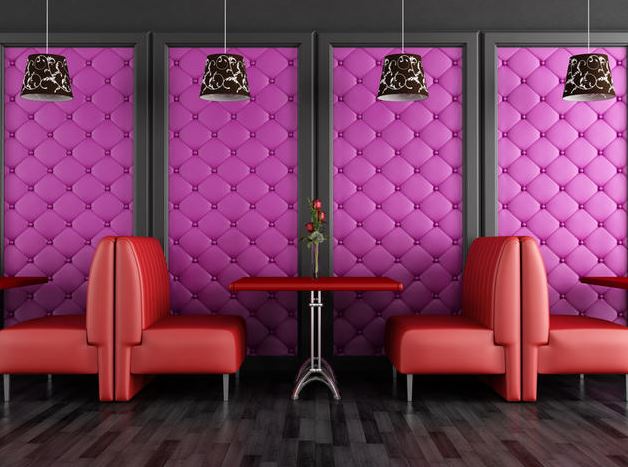 Classic designs mixed with a splash of WOW. When it comes to the bottom line your customers want to not only enjoy there meal, but also the experience, some restaurant owners skimp on the seating and fit-out by shopping around for the cheapest seating possible, then its the flooring, lights and so on, before you know it the complete interior is very 2nd rate. We only build the very best commercial booth seating furniture in Australia with 30 years experience in the industry we have completed thousands of projects all over our country, let us help you achieve a fantastic result that we know your customers will tell all there friends about and lets get that cash register ringing for you.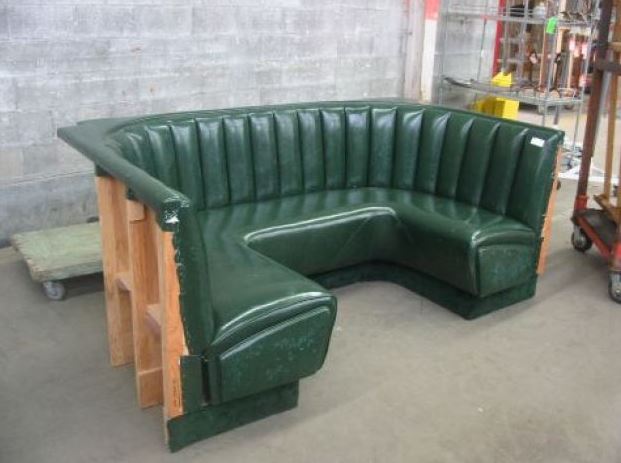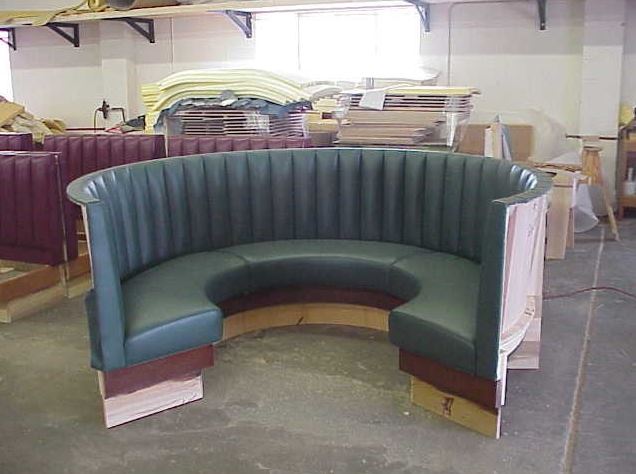 We custom manufacture all of our booths in our Melbourne factory, pictured above our fluted range of restaurant booths, available in your choice of fabric, vinyl and leather in a large range of colours.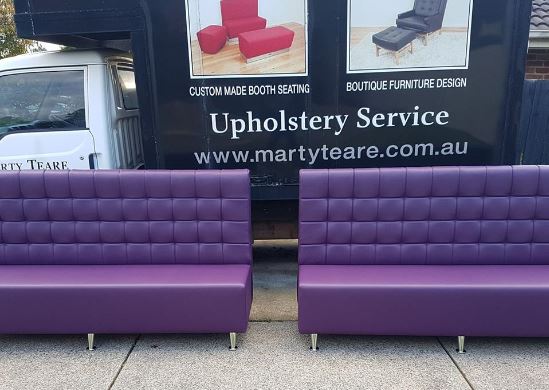 Restaurant Booth seating, Cafe banquette seating custom made in your choice of Fabric, Leather and Commercial Vinyl, pictured above our stylish Kalvin banquette, perfect for all spaces.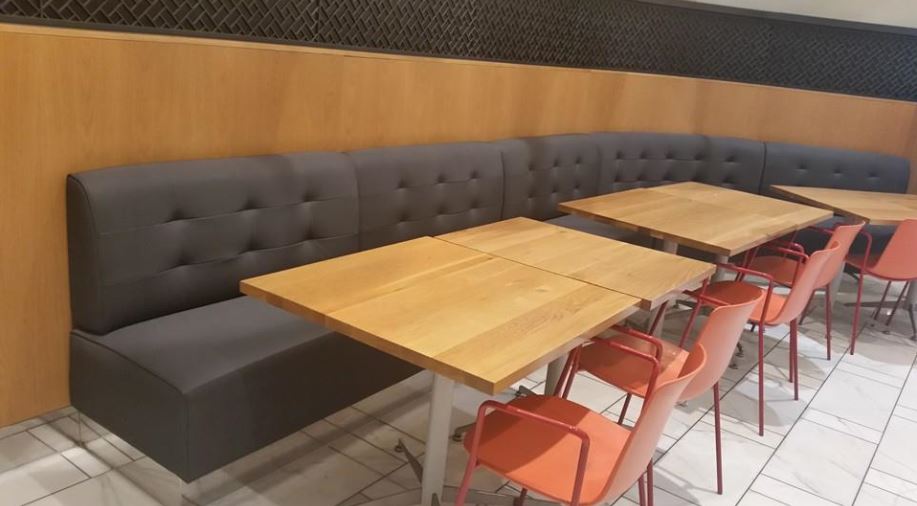 Pictured above the stitched back banqueted with hidden button feature and stainless kicker, perfect for café, restaurant food courts, available in your choice of material.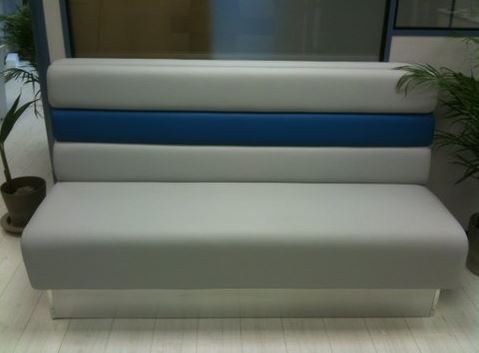 Scrolled back units with stainless kickers look amazing, phone us for pricing on all our units, we are Australia's number 1 supplier of high quality banquette and booth seating units for Restaurants, Cafe's and all commercial seating areas.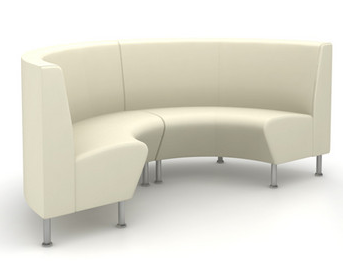 Our client in Sydney Brendon asked could we make a curved booth to fit his home overlooking the Blue Mountains, something modern and commercial.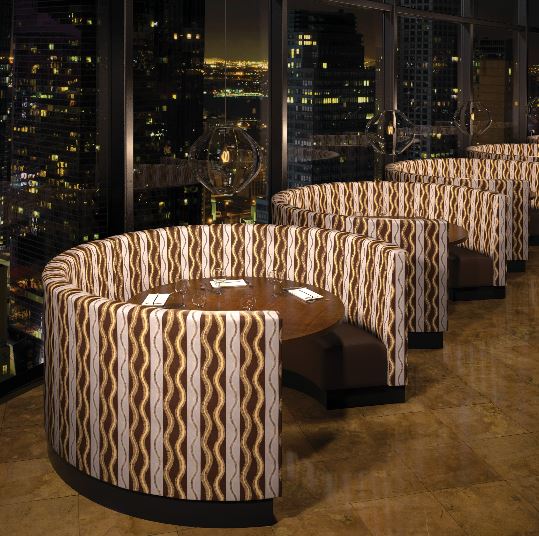 Custom 5 seater round booths for a high rise Restaurant was the email, a customers own fabric supplied and the result was amazing.....please enjoy our latest design, the Round 750 booth.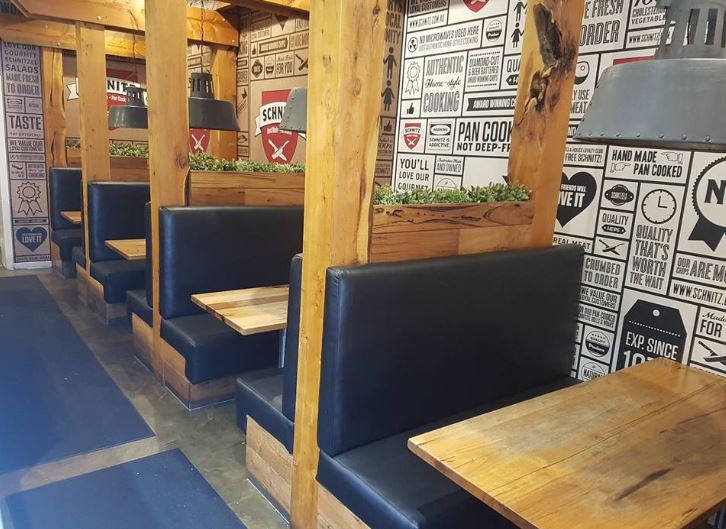 Curved booths available in custom sizes....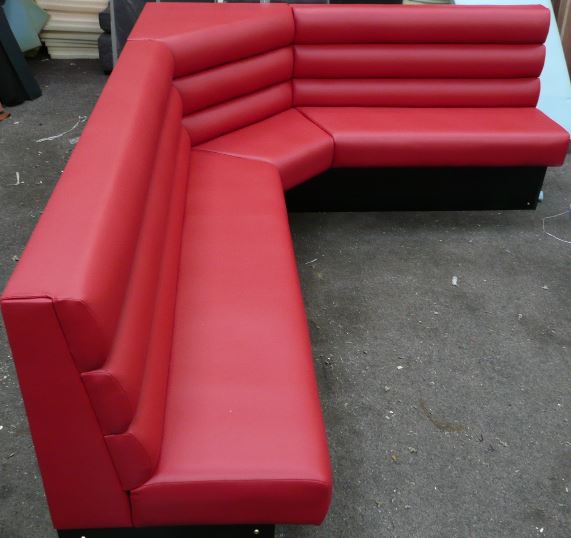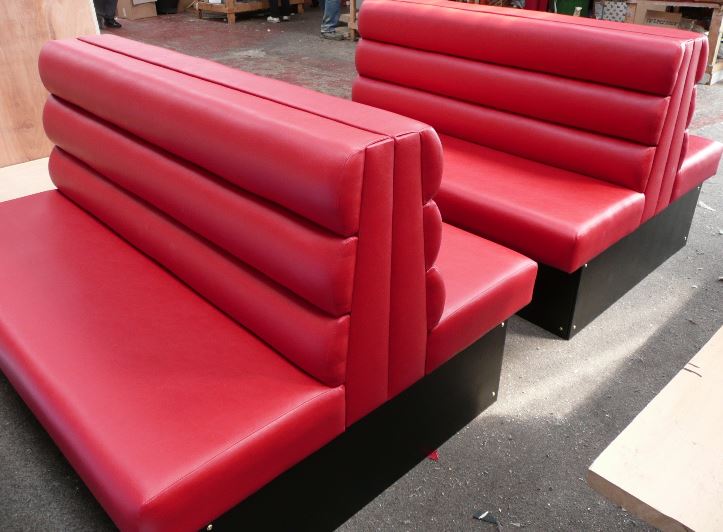 Scrolled back booths...Pictured above our scrolled back booths, available if full custom sizes to suit any interior space and available in the ful range of commercial vinyls, leather and fabric.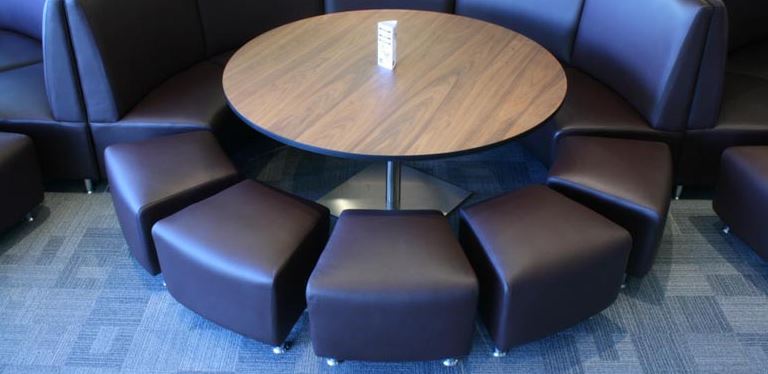 We also make custom ottomans to compliment all our booth and banquettes.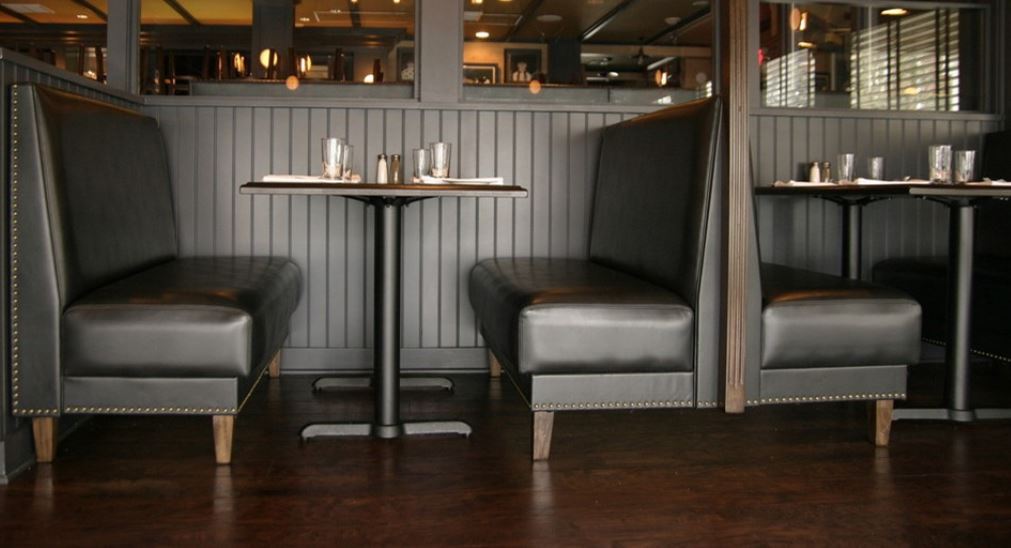 Free standing and built in Raymona banquettes with stud finish for that bit of style and class.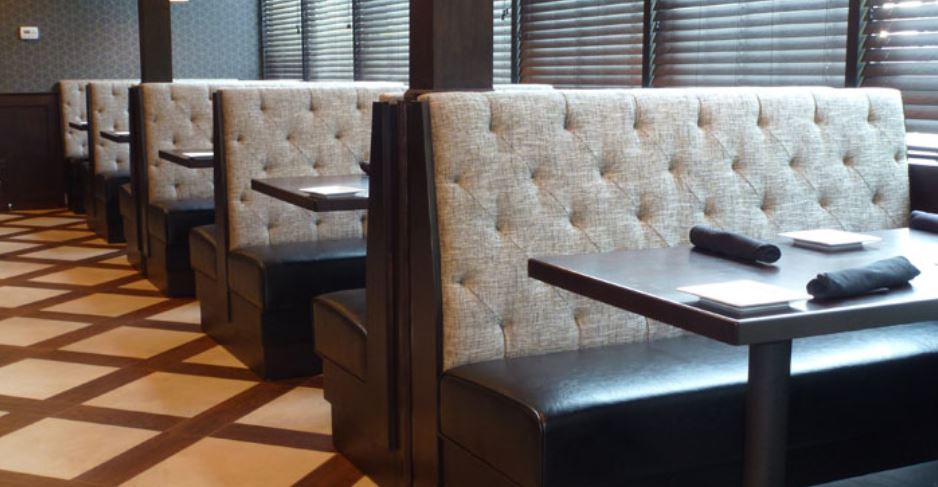 Pictured above our double Diamond booth available in 1200mm and 1800mm widths, also as free standing units in your choice of colours and material, with plinth base or chrome steel legs...p.o.a.

Modern design with large style Diamond buttoning was the brief from this client, Blue velour and stainless steel legs give a real wow factor.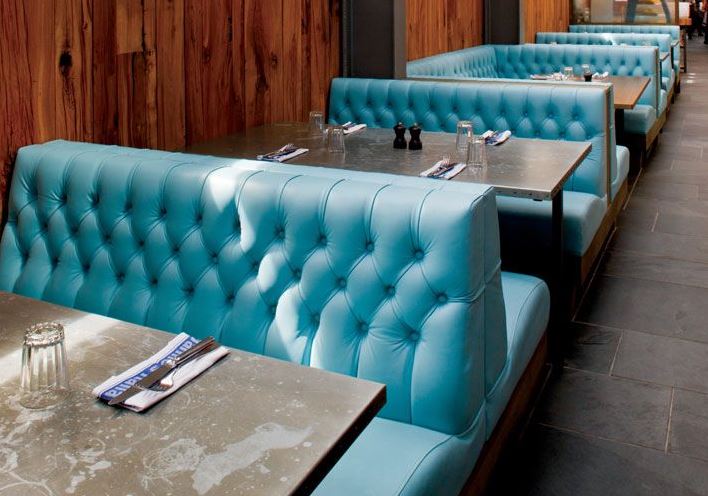 Diamond buttoned banquettes in Leather look stunning and we specialise in stunning pieces that will give your eatery the WOW factor.......

Banquette design to suit any area pictured below our Aron Banquette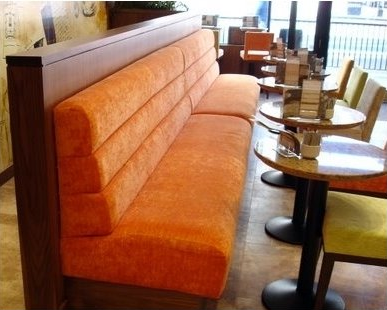 High back Diamond Buttoned Banquette seating in luxury Leather.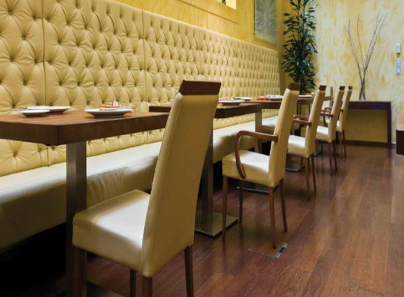 Pictured below our Space Scroll Back Banquettes sizes show 1200mm width 1050mm height also featuring our Round 450 ottomans, available in custom sizes and the full range of Commercial vinyls and fabrics.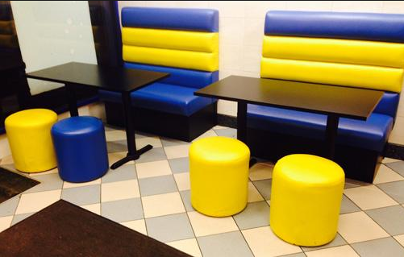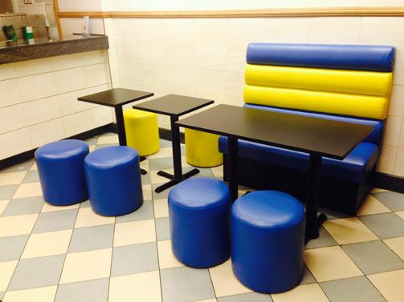 We manufacture all our designs in our Melbourne factory in only the very best materials, commercial vinyl and leather.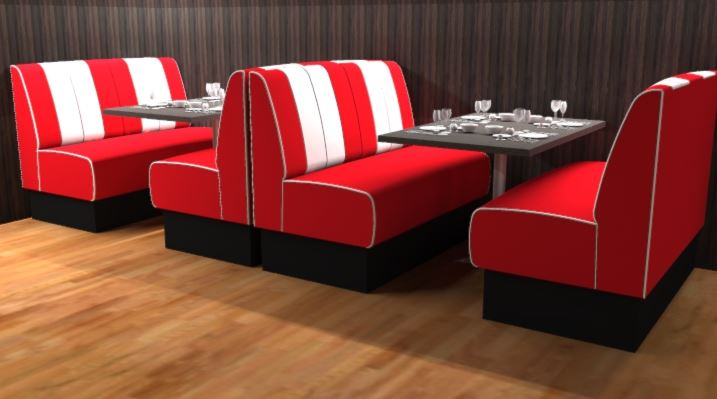 Retro Banquette in many colours and styles....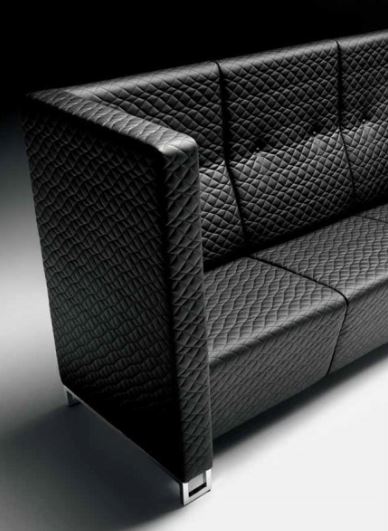 Classy Banquette seating attracts classy clients.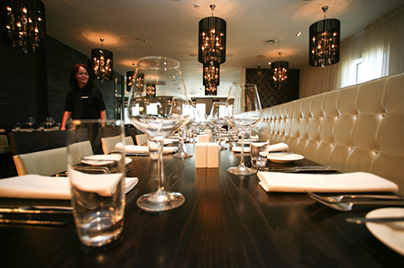 A lot of clients are looking for something different in Nightclubs and classy upmarket bars, enter the Raven round ottoman chair, available in 2 seater and with castors as shown or Zac crome legs in your choice of materials.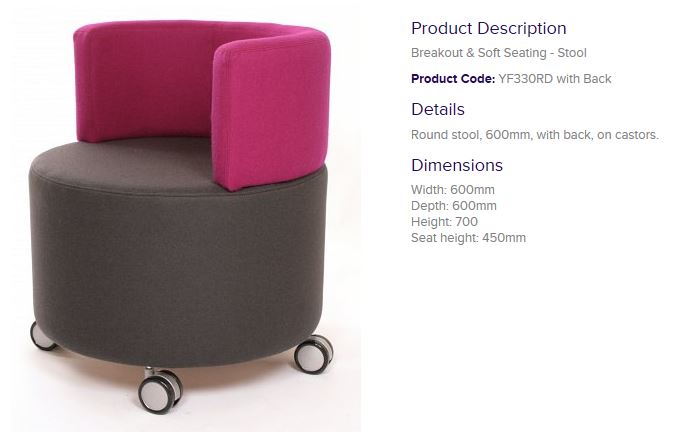 Diamond Buttoned booths with Hardwood trim standard and custom sizes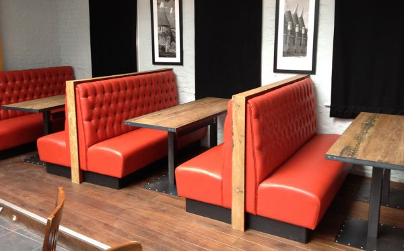 We get asked many times a day, how much room do I need to fit Booth seating in our Restaurant, well here is our very popular Retro BoothDouble back and single back in Red and White commercial vinyl and a standard layout with sizes to help you design your interior space.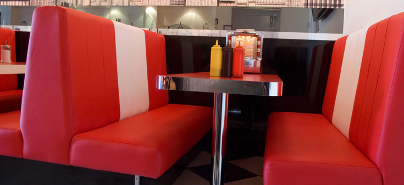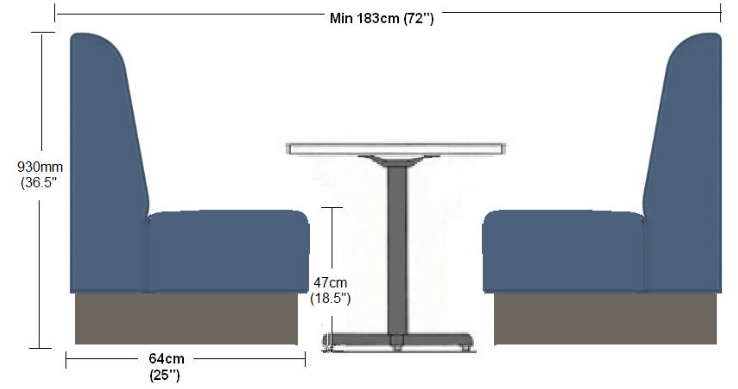 The Century Block banquette with lumber cushion.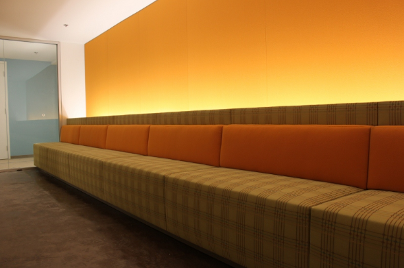 Our Curved Fluted Booths are custom sized to suit your interior space.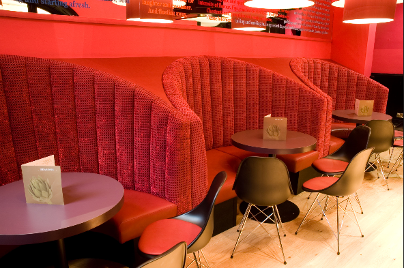 Leather Banquette in dark brown features internal tuck with buttons.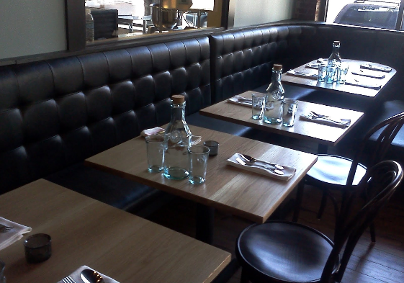 The Scrolled Banquette as pictured below in Warwick commercial vinyl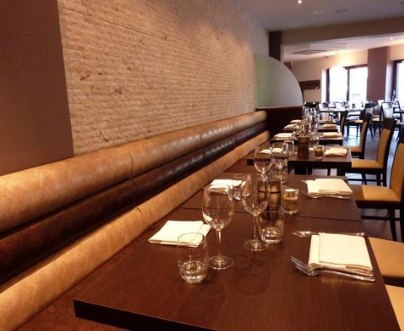 Diamond Buttoned Leather Booth seating for Restauants Hotels and Nightclubs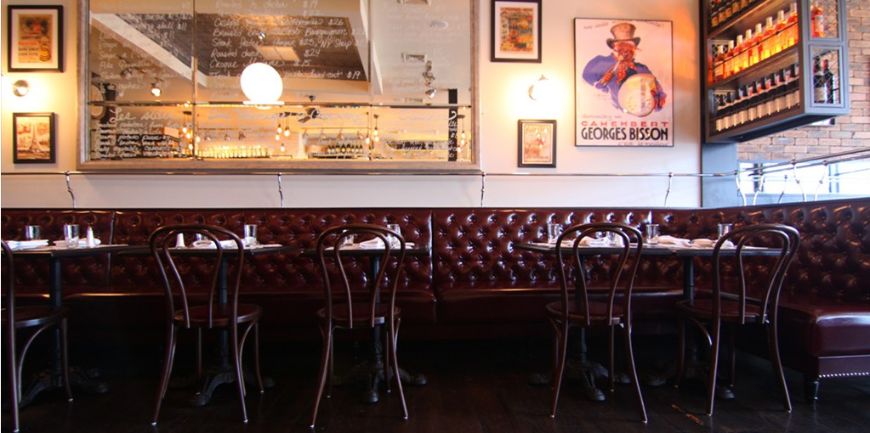 Stylish button back banquettes for all areas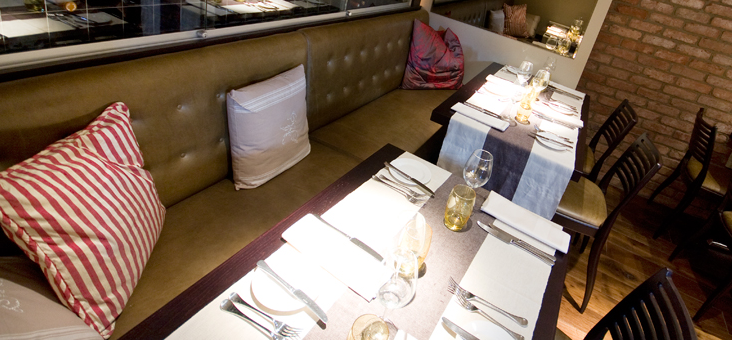 Booth and Banquette seating for cafes.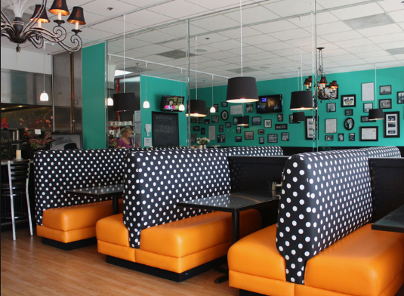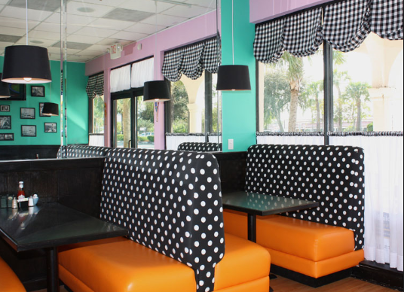 Restaurant Booth seating custom designed to suite High class Restaurants, Cafes, Hotels and Nightclubs